Curriculum
All students are required to partake in three Core Modules (first semester) and the Integrated Research and Design Modules (first to third semester). Specialization Modules (Electives) and Masters Thesis topics (second to fourth semester) are chosen individually. MSc IUSD operates on a studio basis.

To get a first overview of the modules' outcomes, please consider our yearbooks: IUSD yearbooks

Content of modules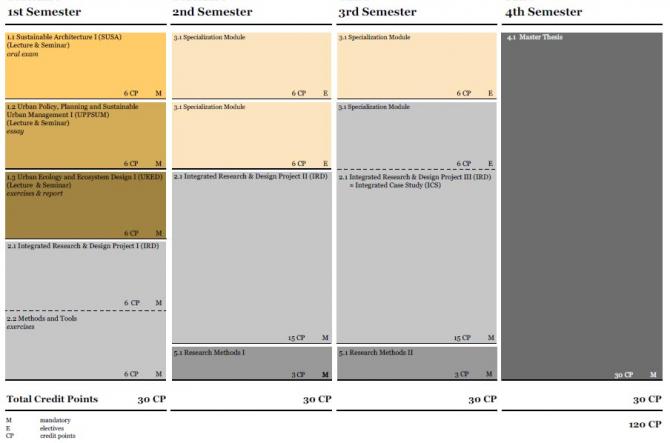 1. Projects

1. Integrated Research and Design (IRD), Integrated Case Study (ICS)
This course aims at expanding course participants' understanding of the roles and responsibilities of professionals involved in the process of shaping our cities, buildings and urban environment. It links research and design skills in terms of applying ecological knowledge, up to date technologies and shaping built form to research and design skills in terms of collaborative forms of project development and organization. Course participants are asked to creatively and strategically assemble new alliances and relationships among owners, clients, builders, fabricators, consultants, NGOs etc. that lay the groundwork for innovative environmental, urban and architectural design and research. This course explores how these new models of working can expand the scope and capabilities of architects, urban planners and engineers to embed the role of design and research in the total process of developing and realizing a project. The "Integrated Research and Design Module" is designed to address this new condition and prepare the next generation of professionals to lead in the development of new modes of research and design practice.
1.1 Methods and Tools
During the first semester (in Cairo and Stuttgart) this module, as part of IRD, provides the student with the methodological background needed for the Integrated Research and Design Projects. Participants get an overview of methods for gathering, analyzing, assessing and evaluating information and of making decisions that go hand-in-hand with the development of a conceptual approach. In the module participants will learn how to apply these methods in the development of their own projects.
2. Core Modules
2.1 Urban Policy, Planning and Sustainable Urban Management (UPPSUM)
Students understand the major challenges, objectives, strategies and instruments in spatial planning and urban development in both Europe and in developing countries. Basic notions of urban policy, urban planning, participation in planning and urban management are introduced, contextualized and considered in their application through selected best-practice examples in European and MENA countries. The module focuses on the practical constraints of applying best-practice methodologies, especially in the Global South where cities struggle with the effects of informal urbanization, environmental pollution or lack of urban services and efficient urban management. The module aims to unpack causes and effects of environmental, social and political problems and identify rights, relationships, roles and responsibilities of urban actors including city dwellers themselves. Students will be equipped with theoretical and practical skills to comprehend complex urban problems and develop conceptual and practical solutions towards environmentally sustainable and socially just cities.

2.2 Urban Ecology and Ecosystem Design (UEED)
This module presents the basic principles of landscape ecological theory applied to urban environments and the basic principles of infrastructure systems which shape the urban environment. It will give an overview on actual environmental challenges related to the urban environment and explain the effects of infrastructure development on landscape structure and function—drawing on knowledge from the fields of ecology, engineering and landscape architecture. It will introduce different theories that try to re-center landscape planning and design around the goal of designing green infrastructure systems. Responding to contemporary urban and infrastructure development challenges, this module brings together a series of innovative concepts and theories to discuss different methods, models and measures of ecological design of combined landscape and infrastructure systems for the 21st century.

2.3 Sustainable Architecture (SUSA)
This module teaches basic principles of sustainable and energy-efficient building design. Students will study the principles of environmental architecture, including energy conservation, reduction of embodied energy of buildings and recycling, or the possibilities to integrate the use of solar energy and other renewable energy sources in architecture. The module is based upon the assumption that «green» architecture is not only a matter of technology-based solutions but of an intelligent integration of complex factors throughout the design process, including functional and organizational aspects, the building structure, context-specific issues such as site and local climate, regional architectural traditions and typologies, local building materials and other ecological factors, as well as socio-cultural aspects, poverty-related issues and a more general recognition of the human and behavioral dimension related to program and user. The module provides an overview of best practice including technology-driven design approaches and «low-tech» alternatives tested in Europe and the Global South.
Please note that the focus of the module Sustainable Architecture module may vary according to the respective professor's research and teaching approach.

3. Electives
The Electives (Specialization Modules) cover a wide range of different disciplines in the three main IUSD research fields. However, the actual number of electives on offer per semester is limited and will be reconfirmed each academic year.
To get a first overview of the module outcomes, please consider our yearbooks: IUSD yearbooks

3.1 Sustainable Urbanism
Selection of previous and current elective courses (please note this is only a general overview and that the offer may vary each semester):
Extreme Urbanism (SI)
Beyond Tourism (SI)
Sustainable Urban Design Approaches (SI)
Regional Planning II (IREUS)
City Branding (SI)
Berlin Module (SI in collaboration with GAMP Network)
Zwischen Hörsaal und Praxis (between Lecture Hall and Practice) (SI in collaboration with GIZ)
Upgrading of Informal Settlements (SI)
Urban and Regional Planning (ASUTunis)
Topics On Uurbanism (ASU)

3.2 Sustainable Ecology
Selection of previous and current elective courses (please note this is only a general overview and that the offer may vary each semester):
Environmental Aspects; Sanitary Engineering; International Waste Management; Water Quality and Treatment; Water Supply and Distribution; Power Demand, Supply and Distribution; Water Management and Irrigation Facilities; Basics of Air Quality Control; Air Quality Management; Thermal Waste Treatment; Technology Assessment; Transport Planning and Modeling.
Selection of previous and current elective courses:
Solid Waste Management (MIP)
Waste Water Technology (MIP)
Water Demand Supply (MIP)
Basics of Air Quality Control (MIP)
Sanitary Engineering (MIP)
Economic aspects of Infrastructure Planning (MIP)
International Waste Management (MIP)
Landscape Architecture and Climate Change (HFWU)
Decision Analysis (IVR)
Designing Growth (ILPÖ/IGMA)
Summer in the City (ILPÖ)
Geodesign (ILPÖ)
Green architecture (ILPÖ)

3.3 Sustainable Architecture
Selection of previous and current elective courses (each semester the offer may vary, and some seminars will be offered between the semesters during lecture free time. Some electives may be taught in German/English language):
Sustainable Architecture - Low Tech or High Tech II (IEK/SI)
uququala3 build together learn together (IÖB)
Clay Construction Construction
City Tree House II (IGMA)
Earth Workshop (SI/IEK)
Post War Reconstruction (IFAG)
Summer School "Transformation through sustainable qualification"
Climate and Design (IUSD)
Igloo (IBBTE)
Begenungsraum (IBK I)
Design Projects (ASU)

3.4 others
Selection of previous and current elective courses (please note this is only a general overview and that the offer may vary each semester):
International Project Management (BauÖk)
Introduction to Integrated Planning (IVR)
Self-Directed Study (IUSD with various institutes)
Design and Planning - Theories and Modules (IWE)
Methods of Economic Evaluation in Construction (BauÖk)
Foreign Affaires (IFAG)
English for academic purposes I (SIZ, SZ)
Rural Development (ASU)
3.5 Extracurricular qualifications and events
During the two academic years at MSc IUSD young professionals will have the opportunity to make use of extracurricular activities offered by the broader network and partners.
This includes:
• Workshops, and soft skills qualifications incorporated into the academic curriculum with the support by external experts.
• Workshops, and soft skills qualifications through academic networks such as DAAD (i.e. in Cairo), Webinar activities via Alumniportal Deutschland
• Webinars and Alumni workshops via sectoral network such as AGEP (German Association of Postgraduate Programmes with special Relevance to Developing Countries)
• Networking and technical exchange via GAMP (German Arab Masters Programmes Network)
• Technical and managerial qualifications (i.e. Workshops on Capacity Works) via cooperating development institutions such as GIZ

5. Masters Thesis
While most of the thesis work occurs during the last term of the second year (4th semester), students are urged to begin the process of defining a thesis topic early in the second year through their participation in a required thesis preparation seminar. The Masters thesis will ideally be developed in cooperation with external partner organizations. Students are required to submit a thesis on a topic of their choice that avoids the traditional perception of the thesis as a «mini-dissertation», and to think instead of a client-oriented, professional document that bridges academic and professional concerns.